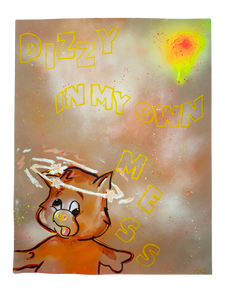 Regular price
"Dizzy In My Own Mess"
---
Original Print
Mixed Media

11x17 inches
1/1
The Beary Collection will never be completed. It is a body of work that runs parallel to my art practice. It helps guide the other collections and is the core of my work. This collections ranges in media and expresses it self in many different ways. I use cartoon animals specifically bears to symbolize an emotional state. I am inspired by Care Bears/teddy bears because to me they represent innocence, comfort, and the beginning. To me, Care Bears are rooted in identity and empathy, some of my most important values. Values I think the modern world could use more of. 
"Dizzy In My Own Mess" is one of my favorite prints and will be adapted to other works. Maybe even spark an entire series. This is for all the over thinkers. I am constantly getting lost in my thoughts unable to be present in reality. I spin in circles until I can't function. Looking at it makes me laugh at myself, and forces me to lighten up.